Hello again Gorgeous People, today I have for you a foundation review, which just launched. It's Manhattan Fresher Skin Breathable, Natural Finish Foundation. Few weeks ago I got a sample of this foundation, I used it twice and really loved how it looked on my skin. So I got a full-size one and have been using it since. According to Manhattan it's a lightweight breathable foundation which gives you fresher looking, natural skin. This formula provides shine-free finish & light coverage and doesn't clog pores. This also contains SPF 15 and comes in four different shades.
---
Hallo herrliche Leute, heute habe ich für Sie ein Neu Foundation Bericht. Es gennat Manhattan Fresher Skin Breathable, Natural Finish Foundation. Vor ein paar Wochen habe ich eine Probe von diesem Foundation, ich habe es zweimal verwendet und wirklich geliebt, deshalb ich habe ein Full-Size gekauft. Nach Manhattan es hat leicht Texture für natürlich aussehender, sichtbar und spürbar frishen Teint. Es lässt die Haut atmen und Anti-Glanz Finish für ganzen Tag. Es verstopft nicht die Poren. Es hat LSF 15 und kommt in vier Schatten.
MANHATTAN Fresher Skin Foundation Nr.30 Soft Porcelain
MANHATTAN Fresher Skin Foundation Nr.32 Classic Ivory
MANHATTAN Fresher Skin Foundation Nr.33 True Ivory
MANHATTAN Fresher Skin Foundation Nr.34 Soft Beige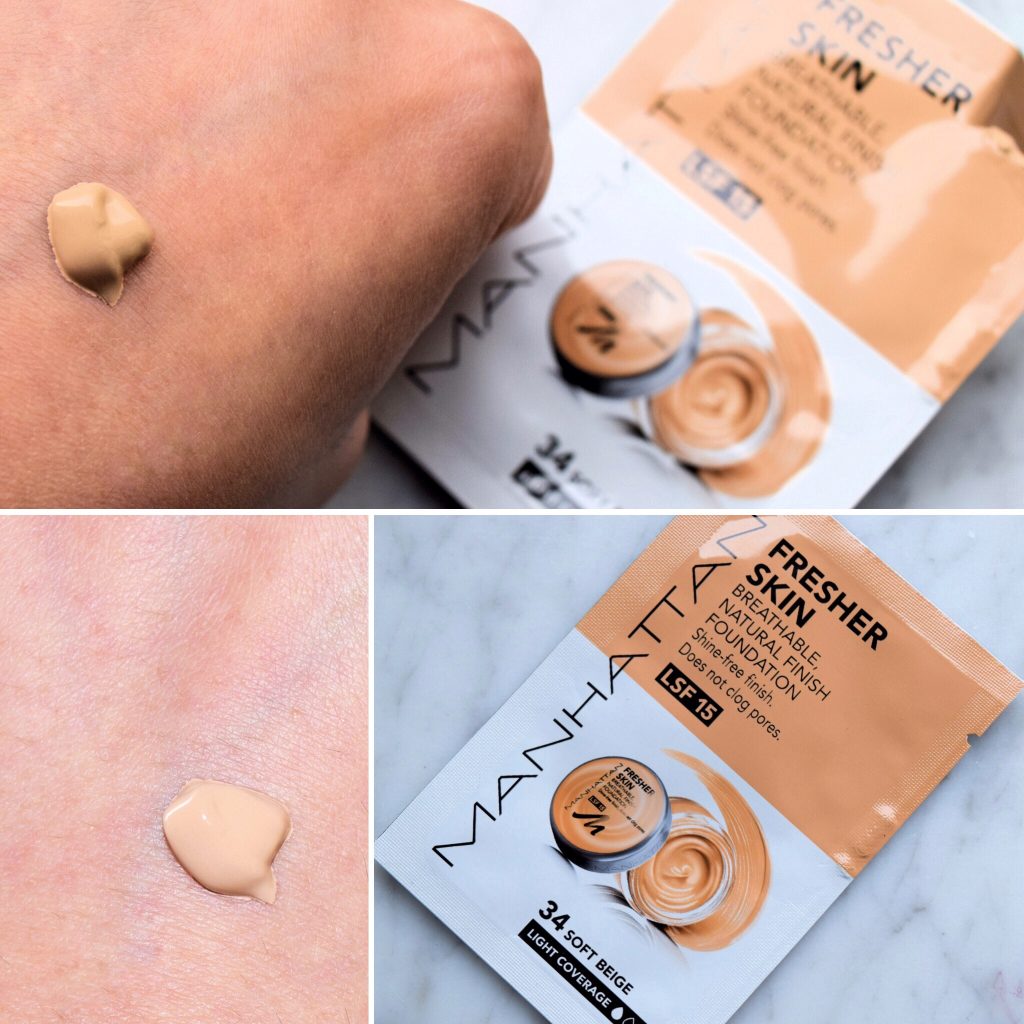 I find this foundation to be very light gel-like texture and very lightweight on the skin. The coverage is from light to medium and does nicely cover redness and uneven skin tone. If you want full coverage then this might not be for you. The finish is natural not matte rather satin looking and throughout the day it stays somewhat the same. Staying power is quite good about 6-7 hours and feels really lightweight on the skin. I don't know how it will look on large pores because I have small pores on my noise and around it and it didn't made them visible. Also it doesn't stick on to my dry areas.
This foundation comes in a jar, and you have to use your fingers or a brush which is unhygienic. I wish it had a pump or it came in a tube. The color selection with four shades is really small. Unfortunately People with dark skin or very light skin can't use it. My shade is 34 Soft Beige and this is the darkest shade in the rang. ( for the reference I am nw25 in Mac Foundation)
Nevertheless, Manhattan has brought a good affordable foundation on the market. It's ideal for those who want to cover only a little bit and have nice skin. Oily skin people will love this product. My tip for normal & dry skin people: moisturize well before using this foundation.
---
Ich finde, dass dieses Foundation sehr leichte gelähnliche Textur hat. Der Deckkraft ist vom Licht bis Medium und bedeckt wirklich Röte und unebenen Hautton nett. Wenn Sie vollen Deckkraft wollen, könnte das nicht für Sie sein. Der Finish ist Satin und nicht matte. Durchhaltevermögen ist ungefähr 6-7 Stunden und auf der Haut wirklich leichtes Gefühl ziemlich gut. Ich klein Poren habe und es macht nicht sie sichtbar. Steckt es nicht bei meiner trockenen Haut.
Dieses Foundation kommt in einem Glas Topf (glass jar) und Sie müssen Ihre Finger oder eine Bürste verwenden, die unhygienisch ist. Ich wünsche, dass es eine Pump hatte oder es in einer Tube gekommen ist. Die Farbenauswahl mit vier Schatten ist wirklich klein. Leider können Leute mit der dunklen Haut oder sehr leichten Haut nicht es verwenden. Mein Farbton is 34 Soft Beige und das ist der dunkelste Farbton in die kollekion. ( für der Hinweis ich bin nw25 in Mac Foundation)

Manhattan hat ein gutes erschwinglich Foundation auf dem Markt gebracht. Es ist ideal, die nur ein kleines bisschen bedecken wollen und Haut sehr fine haben. Ölige Hautleute werden dieses Produkt lieben. Mein Tipp für normale & trockene Haut: benutzen Sie Feuchtigkeitscreme.
Price: 5,95 € for 25 ml
Where to buy / Wo können Sie kaufen:
Please follow me on social media and subscribe to my Blog 🙂 Have a great day! Leave the comments below, I would love to hear your opinions.
---
Bitte folgen Sie mir auf Social Media und folgen Sie meinem Blog 🙂 Ich wünsche Ihnen einen wunderschönen Tag! Lassen Sie die Kommentare unten, würde ich gerne Ihre Meinung zu hören.