Hello Gorgeous People. Today I have review and swatches for Loreal Indefectible Sexy Balms. Loreal claims that these Indefectible Sexy Balms gives long-lasting color with moisture even in a critical freezing weather and Lips look sexy, smooth and uniform. Loreal Indefectible Sexy Balms are available in nine different colors from delicate soft shades for day-time to dark bold shades for night-time.
---
Hallo herrlich Leute. Heute habe ich Review/Bericht und Swatches für Loreal Indefectible Erotische Balsame. Nach Loreal diese Indefectible Sexy Balms bieten langhaltende Farbe und Feuchtigkeit. ( auch in den wildesten Situationen ) Loreal Indefectible Sexy Balms sind in neun verschiedenen Farben verfügbar. Von leichten Schatten für die Tageszeit – bis dunklen Schatten für die Nachtzeit.
102 Gossip : very light nude with a hint of peach and shimmer. hell Nude Peach.
103 As if! : nude with pink undertone. Nude mith rose Ton.
104 Break the rules : my lips but better kind of shade with red undertones. meine Lippen aber besser Farbe mit rot Ton.
106 Clueless : my lips but better kind of shade with pink undertones. meine Lippen aber besser Farbe mit rose Ton
109 Such a babe : more bright version of 104 Break the rules, reddish shade. rot, hellere Version 104 Break the rules
110 Can't sit with us : true classic red shade with natural undertone. klassisches Rot, natürlichen Ton.
201 Wasted : bold vamy berry shade. dunkles, beeriges Rot.
202 Adrenaline : bright vibrant bold pink shade. dunkles, vibrierendes rosa.
203 Yala Yolo : bold bright red shade. kühnes rot.
I have a shade 201 wasted and it's one of my favorite color for fall and winter. It looks stunning at night, paired with a perfect black dress. This color is well pigmented, opaque and intense. It glides on the lips like a dream and feels very light through out the day because it's a lip blam too. It gives uniform coverage on the lips. Doesn't stick or emphasis dry patches on the lips and quite shiny and glossy without being sticky. Stays on for about 3-4 hours. It has a strong fruity, sweet scent and flavor. The Packaging is simple & black with a dark reddish shiny cap.
---
Ich habe ein Farbe 201 Wasted, und es ist meiner Lieblingsfarbe für den Fall und Winter. Es sieht atemberaubend in nachts, mit schwarzen Kleid aus. Diese Farbe ist gut pigmented, undurchsichtig und intensiv. Es gleitet auf den Lippen wie ein Traum und fühlt sich sehr leicht, weil es eine Lippe blam auch ist. Es gibt gleichförmigen Einschluss auf den Lippen. Es steckt nicht oder Betonung trockene Flecke auf den Lippen. Es ist wirklich glänzend, ohne klebrig zu sein. Es bleibt seit ungefähr 3-4 Stunden länger. Es hat einen starken fruchtigen, süßen Geruch und Geschmack. Das Verpacken ist schwarz mit einer dunkelrötlichen glänzenden Kappe.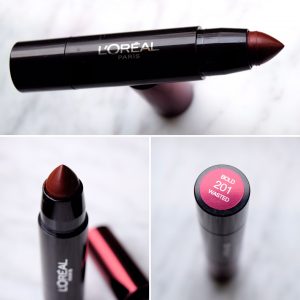 Price: 6,95 € 
Where to buy / Wo können Sie kaufen:
Please follow me on social media and subscribe to my Blog 🙂 Have a great day! Leave the comments below, I would love to hear your opinions.
---
Bitte folgen Sie mir auf Social Media und folgen Sie meinem Blog 🙂 Ich wünsche Ihnen einen wunderschönen Tag! Lassen Sie die Kommentare unten, würde ich gerne Ihre Meinung zu hören.