Hello again Gorgeous People, I am here with another review. Getting inspired from Asia, sheet masks are becoming more and more popular these days and few months ago Garnier came out with three different sheet masks. These cloth masks moisturise the skin, as intensively as 1 week care.
---
Hallo mein herrliche Leute, ich bin hier mit einer anderen Review/Bericht. Von Asien begeistert, werden Tuchmasken immer populärer an diesen Tagen. Vor ein paar Monaten kam Garnier mit drei verschiedenen Tuchmasken. Diese Tuchmasken befeuchten die Haut so intensiv wie die Sorge von 1 Woche.
Hydra Bomb Tuchmaske für normale Haut bis Mischhaut ( For normal to combination skin )

Hydra Bomb Tuchmaske für feuchtigkeitsbedürftige Haut ( For dehydrated skin )

Hydra Bomb Tuchmaske für trockene und sensible Haut ( For dry and sensitive skin )
How to use: It's very simple to use. You place the white side of the cloth mask on your face then the blue protective sheet on the other side is removed. It's recommended to leave the mask on the face for at least 15 minutes. After removing the mask the serum left is massaged into the skin.
---
Wie man verwendet: Es ist sehr einfach zu verwenden. Sie legen die weiße Seite der Tuchmaske auf Ihrem Gesicht dann die blaue Schutzplatte wird auf der anderen Seite entfernt. Es wird empfohlen, die Maske auf dem Gesicht seit mindestens 15 Minuten zu verlassen. Nach dem Entfernen der Maske wird das verlassene Serum in die Haut massiert.
Hydra Bomb Tuchmaske für feuchtigkeitsbedürftige Haut
It's infused with Pomegranate extract, hyaluronic acid and moisturizer. It's ideal for dehydrated skin . This promises to refresh the skin and provide with intense moisture for a radiant complexion and softened fine lines.

Price : 1,95 €
---
Mit Granatapfel-Extrakt, Hyaluronsäure und Feuchtigkeitsserum angereichert . Ideal für feuchtigkeitsbedürftige Haut. Das verspricht, die Haut zu erfrischen und mit der intensiven Feuchtigkeit für einen leuchtenden Teint zu versorgen, und hat feine Linien weich gemacht.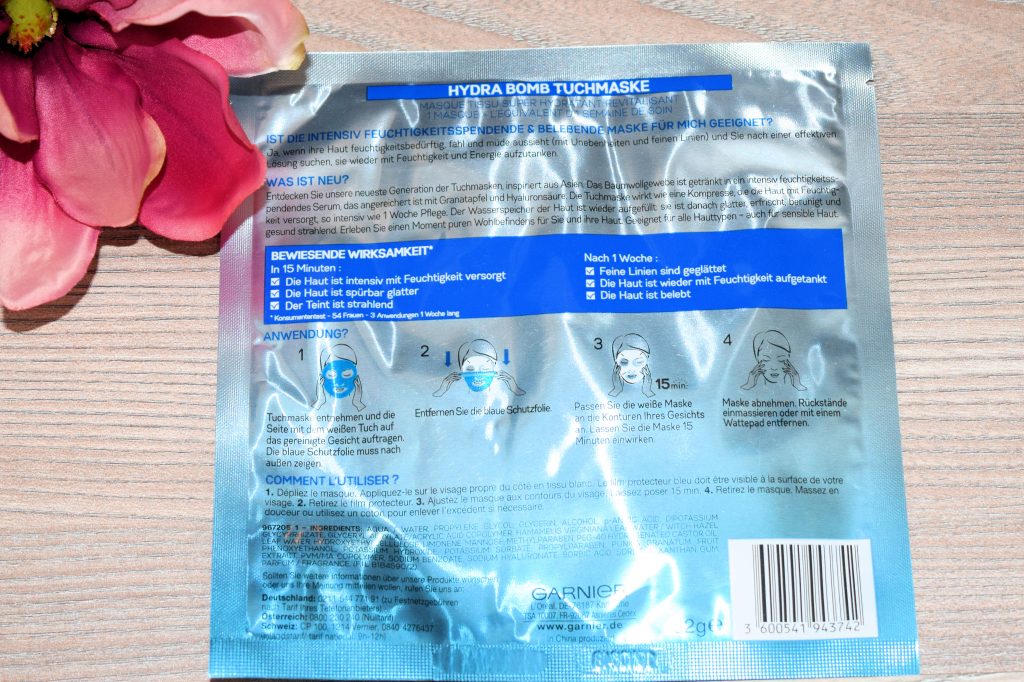 Hydra Bomb Tuchmaske für trockene und sensible Haut
Infused with Camomile extract, hyaluronic acid and moisturising serum. An efficient mask for dry and sensitive skin. Chamomile is a flower, known for soothing skin. Promises to relieve redness, stressful feeling on the skin and gives more intense moisturised pleasant skin.

Price : 1,95 €
---
Mit Kamillen-Extrakt, Hyaluronsäure und Feuchtigkeitsspendendes Serum angereichert. Eine Wirksamkeits-Bombe für trockene und sensible Haut. Versprechungen, Röte, anstrengendes Gefühl auf der Haut zu erleichtern, und geben intensivere befeuchtete angenehme Haut.
My Experience:
I find that these mask do make my skin smooth, fresh, moisturized, radiant but I can't see the difference in fine lines. I really enjoy both of these masks but my favorite of them is Pomegranate extract one ( blue one ). Keep in mind that I have dry and dehydrated skin, maybe because I don't drink enough water. I use them twice a month or if I have some where important to go an even or something. I also use them when I have to apply full face make-up and I feel like my skin is dull and need an instant boast. I apply this at least 1 hour before my make-up, after this my skin feel smooth, fresh and my foundation looks so good. The only negative point is that the mask doesn't fit properly, it's weirdly cut out from mouth and eyes area.
---
Nach Meiner Erfahrung:
Ich finde, dass diese maskieren, machen wirklich meine Haut glatt, frisch, befeuchten aber ich kann den Unterschied in feinen Linien nicht sehen. Ich genieße beide Masken, aber mein Liebling von ihnen ist Garnier Skin Active Hydra Bomb Tuchmaske Granatapfel. Beachten Sie, dass ich trockene und feuchtigkeitsbedürftige Haut habe, weil ich genug Wasser nicht trinke. Ich verwende sie zweimal pro Monat, oder wenn ich ein Ereignis habe oder wenn ich etwas wichtig zu gehen. Ich verwende sie auch, wenn ich volles Gesichtsmake-up anwenden muss und ich fühle, dass meine Haut nicht frisch ist. Ich wende mich diese mindestens 1 Stunde vor meinem Make-Up, nach diesem, meinem Hautgefühl glatt, frisch und mein Make-up sieht so gut aus. Der einzige negative Punkt ist, dass die Maske richtig nicht passt, wird sie aus dem Mund und Augenbereich unheimlich geschnitten.
Where to buy / Wo können Sie kaufen:
Dm

Rossmann

Müller

Real

Douglas
Please follow me on social media and subscribe to my Blog 🙂 Have a great day! Leave the comments below, I would love to hear your opinions.
---
Bitte folgen Sie mir auf Social Media und folgen Sie meinem Blog 🙂 Ich wünsche Ihnen einen wunderschönen Tag! Lassen Sie die Kommentare unten, würde ich gerne Ihre Meinung zu hören.