Today I am reviewing Zewa Wisch & Weg Original, Zewa Wisch & Weg Reinweiss und Zewa Wisch & Weg Sparblatt.
Zewa Wisch & Weg

Claims:
These are not only useful in the kitchen but also in entire household, garden and traveling. In other words zewa has the perfect solution for every occasion.

Excellent quality and thick than your normal kitchen tissue.

You can use these dry or wet and are reliable for cleaning, wiping or scrubing.  
          You have the choice:
Zewa Wisch & Weg Original:

It has a blue border design and is absolutely hygienic. It's particularly for packaging and disposal of organic waste, to dry the food, clean the sink and grill. The possibilities are countless!

Zewa Wisch & Weg Reinweiss: For cleaning & polishing window and glass surfaces in the house and car. It's also best for removal of stains on rough surfaces such as jeans, couch or furniture. It can be used with or without a cleaner. Not only strong, but also soft so you can use it as a napkin or gently wipe delicate skin of a child.

Zewa Wisch & Weg Sparblatt:

This is ideal if you don't need a full tissue and you need to clean small areas because it's (cut) divided in to small portions. you can easily rip a small section. It's just as hygienic and fantastic as the others, and even more economical.

My experience:
First of all I just want say that all of these are great and worth spending on. These are definitely strong, soft and extraordinary in quality form my normal kitchen roll which I buy from Aldi, Lidl, Rossmann and Dm. Although Zewa Wisch & Weg Reinweiss is said to be more softer than the other two but I feel like Zewa Wisch & Weg Original is a little more softer. These towels are amazing, I used them all over my home. I used them wet ( with my cleaner ) for cleaning & scrubbing Windows, Kitchen counter, wiping knifes, TV screen, Cell phone, Mirror, Car seats, my Shoes and these tissues don't rip ( break ) like my other tissues. For drying vegetables and fruits and even for drying dishes. Also great as damp cloth for cleaning the microwave and sausage from Grill. I spilled juice on the table and found out that the absorbing power is really well. I mostly like to use tissue on my face because it's more hygienic and  can surely say that these are the most soft napkins I can across. I am guilty of not regularly washing my make-up brushes and usually spot clean them by taking little bit of brush cleaner on my kitchen tissue and rubbing my brushes on it but after cleaning 2-3 brushes it would rip apart and I would have to use lot of tissues. But with Zewa Wisch & Weg Tuch I only need one 🙂 .
I can surely say that Zewa Wisch & Weg Tuch are versatile, practical and hygienic. My favourite will be Zewa Wisch & Weg Sparblatt because I often do not need a full sheet and it's very environment friendly. Zewa keeps it's promises. In my opinion these all-purpose Zewa Wisch & Weg Tuch are excellent for household and yes I recommend Zewa Wisch & Weg tuch. Thank you so much Freundin Trend Lounge for choosing me to test out these Zewa Wisch & Weg Tuch . 
---
Heute ich habe Bericht auf Zewa Wisch & Weg Original, Zewa Wisch & Weg Reinweiss und Zewa Wisch & Weg Sparblatt.
Zewa Wisch & Weg Ansprüche : 
Diese sind nicht nur in der Küche sondern auch im kompletten Haushalt, Garten und Reisen nützlich. Mit anderen Worten hat Zewa die vollkommene Lösung für jede Gelegenheit.

Ausgezeichnete Qualität und dick als Ihr normales Küchen Tuch.

Sie können verwenden diese trocknen oder nass und sind für die Reinigung, das Abwischen oder das Schrubben zuverlässig.
          Sie haben die Wahl:
Zewa Wisch & Weg Original : 

Es hat ein blaues Grenzdesign und ist absolut hygienisch. Es ist besonders für das Verpacken und die Verfügung der organischen Verschwendung, um das Essen auszutrocknen, das Becken und den Grill zu reinigen. Die Möglichkeiten sind unzählig!

Zewa Wisch & Weg Reinweiss:

Um Fenster und Glas zu reinigen im Haus und Auto. Es ist auch für die reinigung von Flecken auf rauen Oberflächen wie Jeans, sofa oder Möbel am besten. Es kann mit oder ohne einen Reiniger verwendet werden. Es ist sondern auch weich, so können Sie auch Haut eines Kindes wischen.

Zewa Wisch & Weg Sparblatt:

Das ist ideal, wenn Sie kein volles Tuch brauchen und Sie kleine Bereiche reinigen müssen, weil es geteilt in zu kleinen Teilen (geschnitten) wird. Sie können eine kleine Abteilung leicht reißen. Es ist genauso hygienisch und fantastisch wie andere, und noch mehr wirtschaftlich.
Mein Erfahrung : 
Zu erst will ich gerade sagen, dass es toll ist und sich lohnen. Diese sind bestimmt stark, weich und in der Qualitätsform meine normale Küchenrolle außergewöhnlich, die ich von Aldi, Lidl, Rossmann und Dm kaufe. Wie man sagt, ist  Zewa Wisch & Weg Reinweiss weicher als die anderen zwei, aber nach meiner meinung, dass Zewa Wisch & Weg Original etwas weicher ist. Diese Handtücher sind erstaunlich, ich habe sie überall in meinem Haus verwendet. Ich habe sie nass (mit meinem Reiniger) verwendet, um Fenster, Küchenschalter, Messer, Fernseh-Schirm, Mobiltelefon, Spiegel, Autositze, meine Schuhe zu reinigen und diese Tuch brechen nicht wie meine anderen Tuch. Um Gemüse und Früchte auszutrocknen und um sogar Teller auszutrocknen. Auch toll als feuchter Stoff, für die Mikrowelle und Wurst vom Grill zu reinigen. Ich habe Saft auf dem Tisch verschüttet und habe herausgefunden, dass die fesselnde Macht wirklich gut ist. Ich verwende größtenteils gern Gewebe auf meinem Gesicht, weil es hygienischer ist und sicher sagen kann, dass das die weichsten Servietten sind, die ich wissen. Ich bin schuldig, nicht regelmäßig meine Make-Up Pinsel zu waschen, und werde gewöhnlich fleckig reinigen sie durch die Einnahme ein bisschen von Pinselreiniger auf meinem Küchengewebe und die Reibung meiner Bürsten darauf, aber nach der Reinigung von 2-3 Bürsten würde es zerreißen, und ich würde Los von Tuch verwenden müssen. Aber mit Zewa Wisch & Weg Tuch I brauchen nur einen .
Ich kann sicher sagen, dass Zewa Wisch & Weg Tuch vielseitig, praktisch und hygienisch ist. Mein Liebling wird Zewa Wisch & Weg Sparblatt sein, weil ich häufig keine volle Platte brauche und es sehr freundliche Umgebung ist. Zewa behält es sind Versprechungen. Nach meiner Meinung diese ist universaler Zewa Wisch & Weg Tuch für den Haushalt ausgezeichnet, und ja empfehle ich Zewa Wisch & Weg tuch. Herzlichen Dank Freundin Trend Lounge, um mich zu wählen, um diese Zewa Wisch & Weg Tuch zu prüfen.
Overall:
Zewa Wisch & Weg Original : 4.7/5

Zewa Wisch & Weg Reinweiss : 4.6/5

Zewa Wisch & Weg Sparblatt :4.8/5

Price: 2,45 € each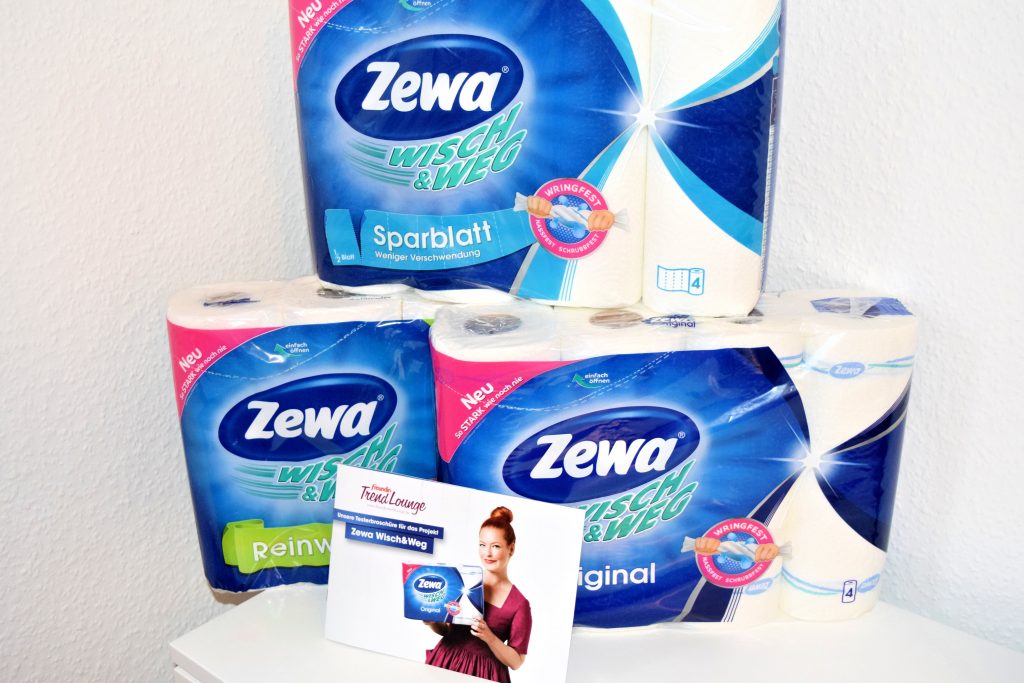 Where to buy / Wo können Sie kaufen:
Amazon

dm

rossmann

real

rewe

edeka
Please follow me on social media and subscribe to my Blog  Have a great day! Leave the comments below, I would love to hear your opinions.
---
Bitte folgen Sie mir auf Social Media und folgen Sie meinem Blog Ich wünsche Ihnen einen wunderschönen Tag! Lassen Sie die Kommentare unten, würde ich gerne Ihre Meinung zu hören.