Hello gorgeous people, Today I am going to review and swatch Sephora Collection Cream Lip Stains. According to Sephora website these are silky, long-lasting lip stain that will cover your lips with bold color from day to night and no need to retouch or reapply. These transforms from a creamy texture into matte lightweight stain. These are Infused with avocado oil, that feels comfortable, won't dry out lips and not sticky. These comes in two finishes: matte & satin.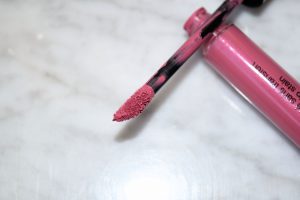 In my opinion these are more like matte liquid lipsticks and not lip stains. Because when I think of stain, it's like tint left on your lips after you have eaten berries. These are completely matte, high-coverage and richly pigmented lip colors which glide on smoothly on the lips. These are really long-lasting, once they dry on your lips, these bad boys are not going anywhere, as long as you won't eat anything greasy because oil will break down the formula. You need a good waterproof remover to remove these lipsticks.
Sephora Cream Lip Stains are silky but you can definitely feel on the lips, not lightweight. But I didn't find it uncomfortable or too drying. I usually apply lip balm before, and it's all good. These will accentuate your dry cracked lips, so do exfoliate them. These liquid lipsticks have a lovely vanilla scent, that wears off in few minutes. Personally I love the scent.
I found that these are super easy to apply, and you can correct with a wipe. Keep in mid people, these are really pigmented so you need a tiniest amount of product, only one swipe. You really don't need much, one dip is enough for the whole lip. I usually wipe off half the product that comes out, on the edge of the tube. The sponge tip applicator is super precise.
I have these three colors 03 Strawberry Kissed, 06 Pink Souffle and 13 Marvelous Mauve. And all three colors are beautiful and opaque. Look stunning on every skin tone.
06 Pink Souffle is a matte dusty pink shade.
03 Strawberry Kissed is a matte bright pinky red shade. Stunning for summer. 
13 Marvelous Mauve is a dusty mauve shade. This one is my fav and perfect for fall and winter. 
Sephora Collection Cream Lip Stain doesn't have a wide range, I would love if Sephora comes out with more colors. These are Sephora's bestselling lip products and I can see why. These are definitely worth the hype!
Unfortunately we don't have Sephora in Germany. I bought these last year when I went to Paris. If you guys have Sephora in your country, you guys are so lucky. 😉 You can buy these from Sephora online website. Sephora ships to Germany and other European countries. 
Price: 10 €
Please follow me on social media and subscribe to my Blog 🙂 Have a great day! Leave the comments below, I would love to hear your opinions.
---
Bitte folgen Sie mir auf Social Media und folgen Sie meinem Blog 🙂 Ich wünsche Ihnen einen wunderschönen Tag! Lassen Sie die Kommentare unten, würde ich gerne Ihre Meinung zu hören.