Hello again gorgeous people. 🙂 If you have greasy, oily or even normal roots and dry ends then this is the best treatment for your hair. Your hair will thank you for this.
1. Loreal Elvital tonerde absolute tonerde-maske
2. Garnier Fructis oil repair 3 wunder butter 3in1 cream kur 
I use these masks every week or every other week. I apply elvital tonerde mask delicately onto my roots using my fingers and massage this into the scalp, section by section until I have covered the entire scalp. Then I just slightly wet my rest of the hair and apply Fructis haarkur oil repair 3 wunder butter kur.
Leave this on for 10 to 15 minutes to work its magic and then rinse it out while massaging the scalp. After this I just wash my hair with my favorite shampoo.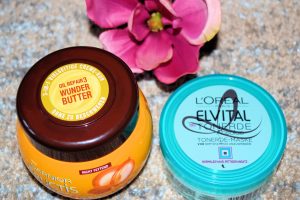 Loreal Elvital tonerde absolute tonerde-maske deeply absorbs excess oil and impurities. Leaving my scalp fresh, clean and balanced. This mask has a cooling affect which gives light lifted roots.
Price: 4,95 €
Garnier Fructis Haarkur oil repair 3 wunder butter kur is enriched with 3 rich oils from Macadamia, Jojoba and Almond, leaving my hair nourished, hydrated and shiny. No greasy feeling 🙂
Price: 2,75 €
Where to buy / Wo können Sie kaufen:
Please follow me on social media and subscribe to my Blog 🙂 Have a great day! Leave the comments below, I would love to hear your opinions.
---
Bitte folgen Sie mir auf Social Media und folgen Sie meinem Blog 🙂 Ich wünsche Ihnen einen wunderschönen Tag! Lassen Sie die Kommentare unten, würde ich gerne Ihre Meinung zu hören.