Hello gorgeous people, it's review time again. And today I am reviewing for you guys Clinique Chubby Nude Foundation sticks. This twist-up foundation stick has a wide range and you can chose from 10 different shades. It's an Oil-free, 100% fragrance free formula. It's also allergy tested.
This Portable perfection stick gives you light to medium coverage with natural finish. Creamy, moisturizing foundation stick blends easily and is buildable, leaving you with even skin tone. The formula claims to be Long-wearing but in my case I have to retouch it after 4 to-5 hours. It's a lightweight formula, not cakey at all.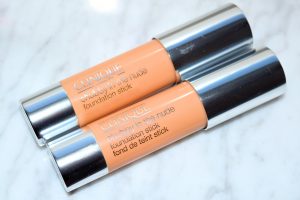 Clinique Chubby Nude Foundation sticks can be used all over the face as a foundation and you can also use lighter and darker shades to highlight and contour your face. I have it in two shades 02 Abundant Alabaster & 06 Intense Ivory. With shade 06 I use few strokes all over my face and 02 on the areas which I want to highlight like my chin, cheekbones, middle of my forehead and under my eyebrows. This gives me very natural, satin finish with a medium level of coverage and fairly decent staying power (about 4 to 5 hours). Because the formula is so good I am thinking of buying a darker shade to contour my face with it.
These days I have pretty dry skin except my T-zone, it's really oily. I just use my favourite moisturizer before applying any foundation. It doesn't clings to my dry patches. In my opinion Clinique Chubby Nude Foundation works for every skin type.
For me I found out that the best way to blend Clinique Chubby Nude Foundation sticks is with your figures. Blending it with a brush and a wet sponge didn't workout for me. Brush just moves around the foundation on my face and a wet sponge also didn't do much. They didn't gave me a nice finish at all.
I love that Clinique Chubby Nude Foundation sticks are convenient, mess-free and travel-friendly. So I use these sticks when I am in a hurry or even in a car, when I have completely no time for make-up. If you are a Mother, Working Woman or a Student, always in a hurry or you travel in a train or tram daily, this is the best foundation stick for you. It's also really great for touch-ups throughout the day to refresh individual regions. You can easily pop in your purse. The complexion looks fresh and healthy.
The only con I could find is the price point. It's quite expensive about 27€ for 0.21oz / 6g.
Where to buy / Wo können Sie kaufen:
Please follow me on social media and subscribe to my Blog 🙂 Have a great day! Leave the comments below, I would love to hear your opinions.
---
Bitte folgen Sie mir auf Social Media und folgen Sie meinem Blog 🙂 Ich wünsche Ihnen einen wunderschönen Tag! Lassen Sie die Kommentare unten, würde ich gerne Ihre Meinung zu hören.