Hello my Gorgeous People. Finally i got my hands on Müller Look Box Christmas Edition. With this Christmas Edition you have 9 items in original size and two sample size items. It has a value of more than 75 Euro and i am so happy that I got lucky this time. Almost every three months Müller comes out with total of 5,000 Müller look box pieces and you pre-register for it on Müller website. You have 24 hours to do this. For only 5 euros you can pick up the look box in your selected branch.
---
Hallo meine herrliche Leute. Endlich habe ich meine Hände auf Müller Look Box Christmas Edition bekommen. Mit dieser Weihnachtsedition haben Sie 9 Sachen in der Original Größe und zwei Probegröß Produkten. Es hat einen Wert von mehr als 75 Euro, und ich bin zufrieden, dass ich glücklich dieses Mal geworden bin. Fast jemals drei Monate Müller kommt mit 5,000 Boxen und schreiben Sie sich dafür auf der Website von Müller vorein. Sie haben 24 Stunden, um das zu tun. Für nur 5 Euro können Sie sich abholen von Müller.
Inside Müller Look Box December Christmas Edition – Inhalt der Müller Look Box Dezember Christmas Edition :
Original size Products – Originalgröße Produkten :
Otto Kern Change EdT, 30ml
This seductive elegant and fruity fragrance is ideal for young girls. Beautiful Purple packaging. Price: 15 €
Bruno Banani No Limits Woman EdT, 20 ml
Here we have an other fragrance. It's sparkling wild scent with a fruity note of tangerines, currant and peach blossoms. This scent is created for women who want to leave all restrictions behind and show their wild side. Price: 14,95 €
Edding L.A.Q.U.E. Naughty Nuggets
This top coat in color nr. 376 is golden metal particles that gives sparkling, glamorous look to your nails.  This shade no longer exists in the Edding L.A.Q.U.E. collection. Price: 7,95 €
Sally Hansen Insta Dri Top Coat
It's a fast drying topcoat for for nails and is perfect against chipping. It leaves your nails shiny up to 10 days. The nail color will dry within seconds. I haven't tried it yet but when I do try it, I will let you guys know how I liked it. Price: 7,99 €
Who doesn't love Essie nail polishes!!! my favorite nail color brand. This shade is elegant classic red shade, ideal for Christmas. Price: 7,99 €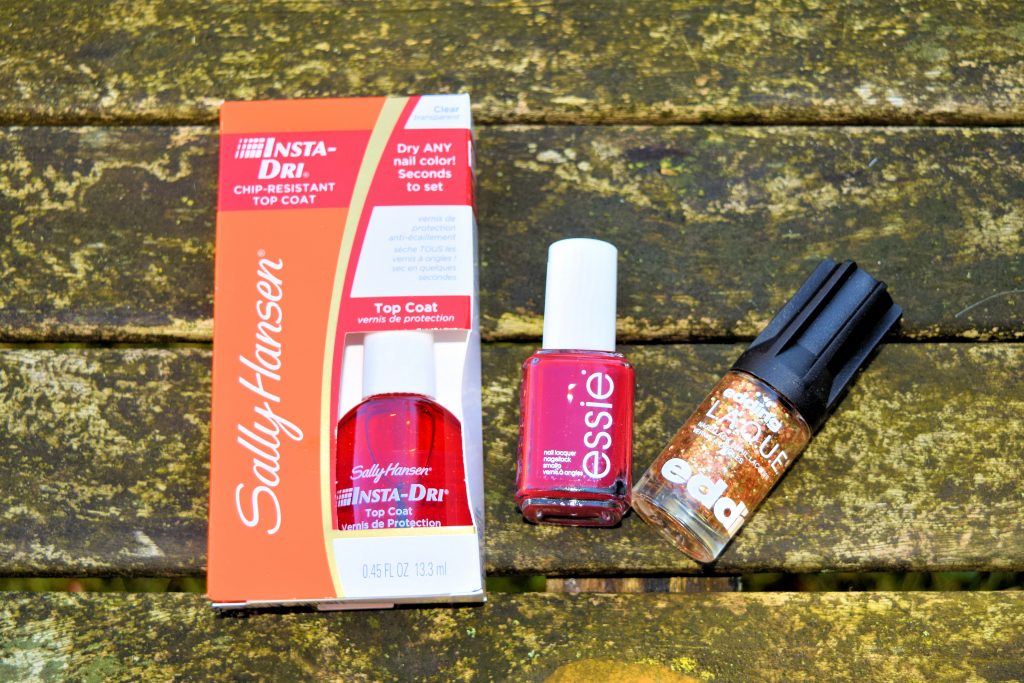 Burts Bees Lipbalm Vanilla Bean
Burts Bee is 100% natural lip balm in different natural flavors. It is infused with beeswax, shea butter and vitamin E for your lips to feeel and look soft and moisturized. I have extremely dry lips and Burts bee lip balm is a Must-have for me. Price: 3,29 €
Make Up Factory Diamond Stripes
This Palette is available in 4 different colors and I got the shade 40 Metallic Rose. Five different creamy rose tones are perfectly suitable as eyeshadows and as a highlighter. Price: sorry couldn't find it.
Innovative, creamy powder texture, Pigmented eyeshadow in color 050 La Vie En Rose, again perfect for Christmas. Price 3,99 €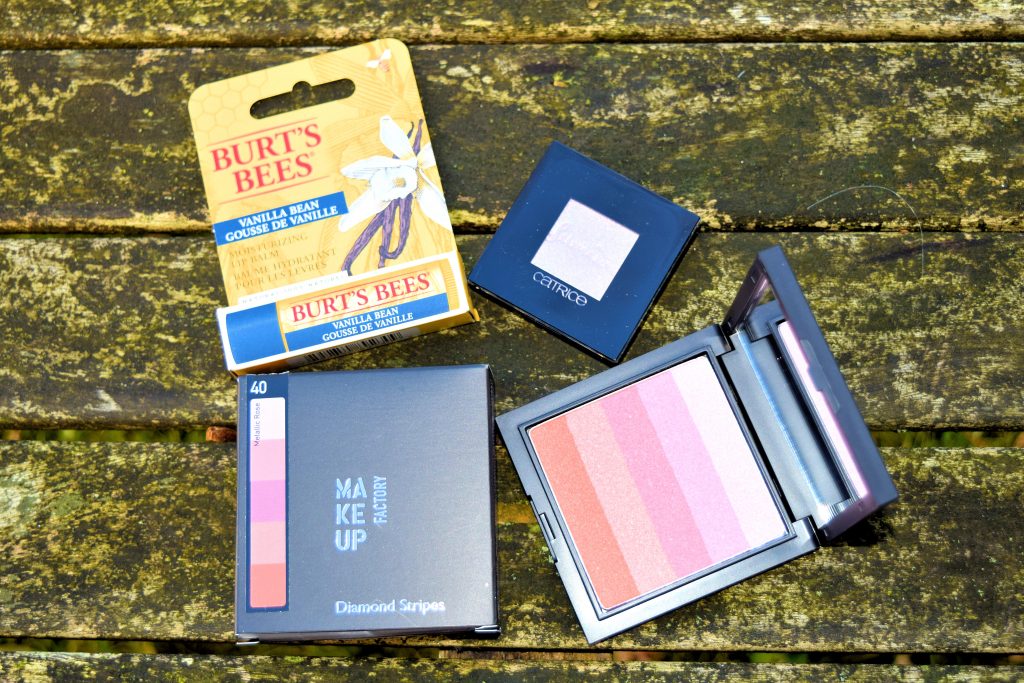 Müllers Teestube Früchtetee Heidelbeer & Joghurt, 80 g
It is a fruit tea with beetroot & yoghurt crispies, with blueberry and yogurt flavor. I love to drink all kinds of teas so it's a perfect for me. Price: sorry couldn't find it.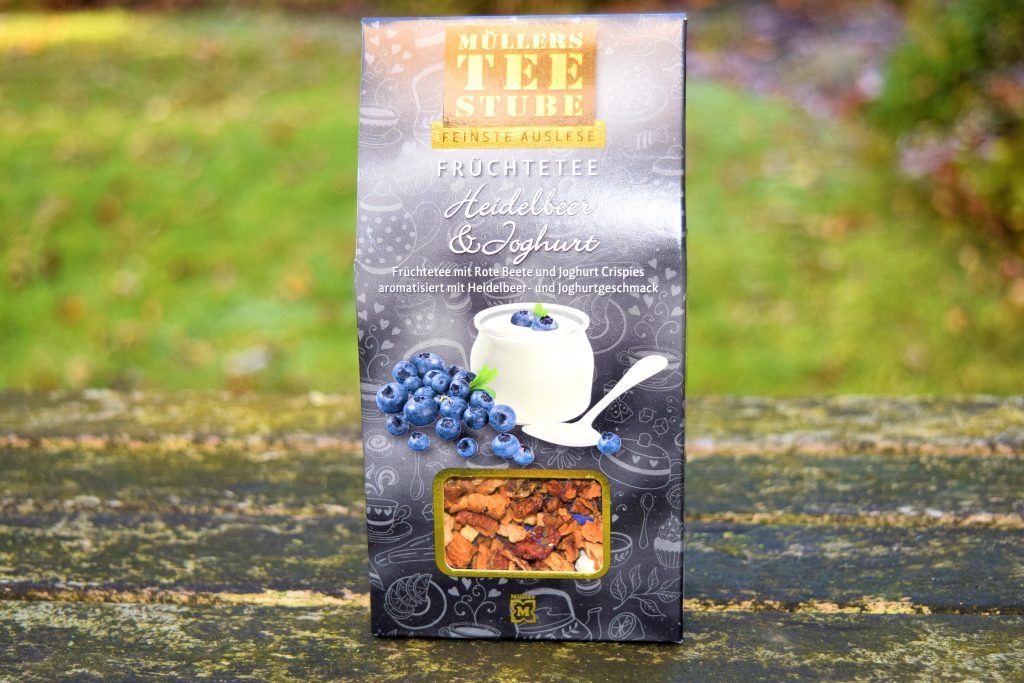 Sample Products – Produktproben :
George, Gina & Lucy White Apple EdT, 10 ml

Axe Signature Oud Wood & Dark Vanilla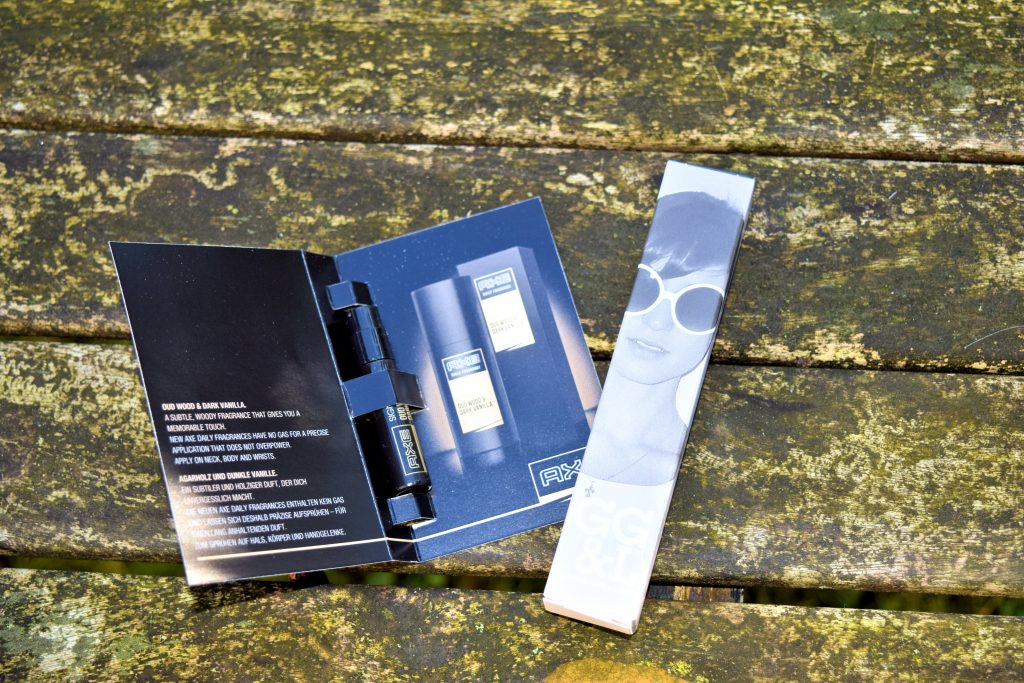 Where to buy / Wo können Sie kaufen:
Please follow me on social media and subscribe to my Blog 🙂 Have a great day! Leave the comments below, I would love to hear your opinions.
---
Bitte folgen Sie mir auf Social Media und folgen Sie meinem Blog 🙂 Ich wünsche Ihnen einen wunderschönen Tag! Lassen Sie die Kommentare unten, würde ich gerne Ihre Meinung zu hören.